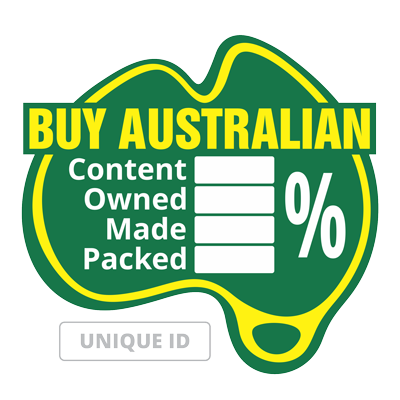 GIVE YOUR PRODUCTS THE LEADING EDGE…
The Australian Logo PL suite of registered trademarks empowers producers, manufacturers and consumers with accurate 'chain of custody' information at a glance.
While other Australian logo providers are too unspecific, our trademarks give consumers a crystal clear indication of the percentage of Australian content, ownership, manufacturing and packaging. This allows consumers to be better informed when making purchasing choices in support of Australian producers and manufacturers. In turn, Australian businesses who include our trademarks on their products gain a competitive advantage when their customers "Buy Australian".
Buy Australian Logo – LEVERAGE THE BEST
Australian products and produce are heralded the world over as premium quality. Our Buy Australian logo suite signals this clearly to both international and local consumers. Unlike other trademarks, ours give consumers greater clarity in terms of the percentage components of Australian inputs.
The best way to make a start is to call us for an informal chat. We'll ask you some questions about your products and provide you with all of the tools needed to include the most appropriate mark on your product labels and marketing assets. If it's now after hours, please use this form to request a callback and we'll be in touch promptly.